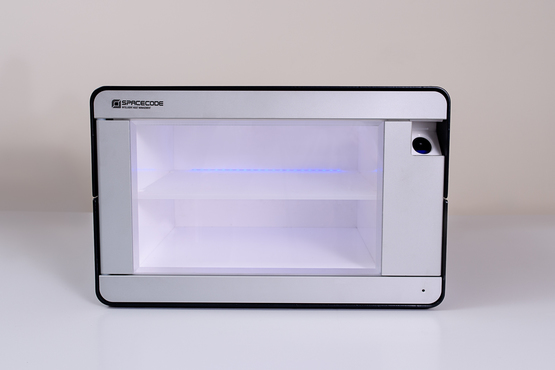 SmartBox
The SmartBox is a compact mini-safe used for storing, tracking and tracing high-value loose diamonds labelled with Spacecode RFID /LED tags. Typically placed inside a safe or vault, it is the ideal solution for the inventory management requirements of receiving goods and for checking and validating their presence inside.
The SmartBox can only be opened by authorised personnel via fingerprint recognition and constantly records exactly who accessed the device, when it was accessed, what was put in or taken out, and where the transaction occurred – anywhere in the world. Alerts are also created to inform management as soon as it happens, ensuring any issues are dealt with immediately at the source.
The revolutionary LED "pick to light" tag feature facilitates instant identification of a specific item or items inside the box, saving precious time on manual searches and protecting against oversights. Users can find the exact diamond that they are looking for, at the exact moment it is required.
Where are SmartBoxes providing added value to companies?
Logging of every transaction: what diamond was added or removed, when and where did it occur, and who did it

Detect and report a problem as soon as it happens at the source, thus saving time when it counts

Instant identification of a diamond with LED tags

Constant track-and-trace of stock movement

Keep high-value items totally secure

Alerts management if the door is not properly locked or closed in a timely manner
Do you need a SmartBox?
The SmartBox is used around the world in diamond facilities all day, every day to monitor and record the movement of high-value loose diamonds.
Features and Benefits at a Glance
Stores, monitors and tracks high-value diamond inventory 24/7

Biometric fingerprint access by authorized personnel

Easy to use and simple workflow integration for inventory management

100% accuracy – tags not affected by metal or liquids

Well-defined read range – no stray reads

LED "pick to light" feature

Door open/closed detection and warning

USB connection

Data can be read and reviewed using a tablet, cell phone or PC
Diamond Facilities using the SmartBox:
Factories

Sales Offices

Laboratories

Auction Houses
Types of items being processed using SmartBoxes today:
Loose diamonds

Diamond Parcels

Gemological Reports