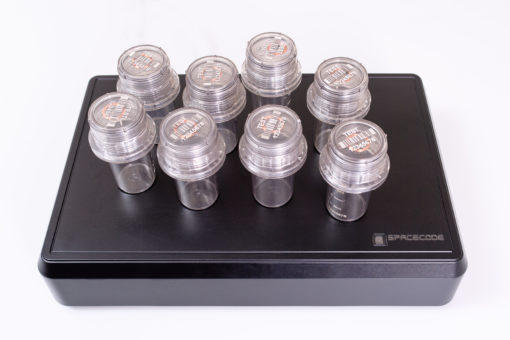 SmartBoard for Laboratories
The SmartBoard is a desktop smart reader designed to quickly process, read and ensure efficient track-and-trace management of laboratory specimens. Spacecode RFID with LED tags for "pick to light" are attached to individual items to facilitate instant identification of specific specimens from among hundreds, irrespective of how they are placed on the board, saving precious time on manual searches and protecting from oversights.
This is the ideal solution for fast-tracking inventory management, labor-intensive work of lab specimens and stocktaking. The SmartBoard offers rapid and reliable reading of items as they are transferred through various processes and staff members.  It plays a crucial role in preventing manual errors, stock loss and shortages.
Where are SmartBoards providing added value to laboratories?
Facilitate provisioning, invoicing and avoid stock shortages
Reduce manual interventions that can lead to errors and thus increase efficient stocktaking and monitoring
Prevent human error at the source, thus saving time when it counts
Eliminate the need for any type of pre-sorting of items
Reduce sorting to a fraction of the time with the LED tags
Reliable track-and-trace of stock movement
Speedy stock count
Revolutionize processes and systems
Do you need a SmartBoard?
A Spacecode bestseller since its launch, the SmartBoard is used in laboratories worldwide to quickly count and locate individual specimens and track and trace items between departments, associating items with RFID for inventory management and control and to locate individual specimens upon demand.
Features and benefits at a glance
Easy to use and simple workflow integration
100% reading accuracy not affected by metal, liquids or juxtaposition
Well-defined read range with active area up to a height of approximately 15 cm or two to three layers above the board
Capacity to read 100 items in 8-10 seconds
LED "pick to light" feature
Quick stock counting
3D reading capabilities
USB and Ethernet connections
Data can be read and reviewed using a tablet, cell phone or PC
Healthcare facilities using the SmartBoard
Laboratories
Hospitals
Clinics
Anti-doping facilities
Items being processed in laboratories using SmartBoards today:
Blood specimens
Urine tubes
Tissue samples
Biopsies