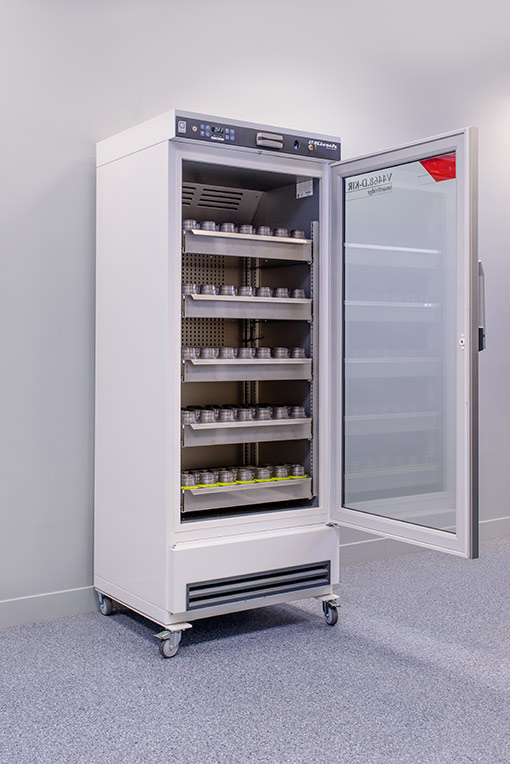 SmartFridge for Laboratories
The Spacecode SmartFridge is used by laboratories for safely securing, storing and automatically tracking blood and urine specimens and other laboratory specimens as they move between different points.
The SmartFridge has been specifically developed for laboratories to trace the physical movement of specimens placed or stored inside and to monitor their temperature. These specimens require stringent management and control because of their importance in diagnosis and treatment of patients, reducing additional risks for invasive procedures and safeguarding against the need for unnecessary treatment for specimens that cannot be replaced.
Anti-doping laboratories use the SmartFridge solution to abide by chain-of-custody requirements, legal compliance and safety needs.
The revolutionary LED "pick to light" tag feature instantly identifies the exact location of a specimen, saving precious time on manual searches and protecting against oversights and misplacements. The tag also includes critical safety information such as the patient`s ID, specimen type and expiration date.
The fridge can only be opened by authorised personnel via RFID access control and constantly records exactly who accessed the device, when it was accessed, what was put in or taken out, and where the transaction occurred.
Where are SmartFridges providing added value to companies?
Facilitate provisioning, invoicing and avoid stock shortages
Ensure compliance by reducing manual interventions that can lead to errors
Workflow efficiency and productivity
Significant ROI
Update inventories in real time
Reliable track-and-trace of specimen movement
Speedy stock count
Revolutionize safety and security processes
Do you need a SmartFridge?
Spacecode's SmartFridge is used in pharmaceutical and laboratory facilities to simplify operations, make inventory control easy and maintain safety and security while improving accuracy in the secure, controlled environment needed in cold storage applications.
Features and Benefits at a glance
Automatic inventory once the door is closed
Permanent online stock
Biometric or ID card access
Digital temperature control and alarm
Alarm for door open
Full inventory traceability
100% reading accuracy not affected by metal, liquids or juxtaposition
RFID tag embedded in specimen container cap
Quick stock counting with paperless records
Ethernet connection
Data can be read and reviewed using a tablet, cell phone or PC
Facilities using the SmartFridge
Laboratories
Hospitals
Anti-doping facilities
Items being processed in laboratories using the SmartFridge:
Blood specimens
Urine tubes
Tissue samples
Biopsies